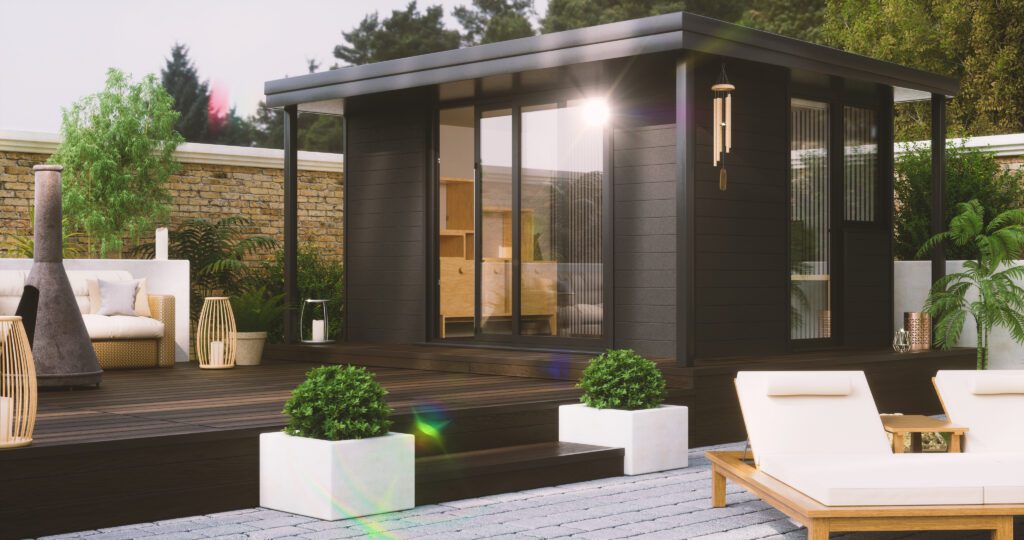 Made from a composite of recycled hardwood and polyethene, it's exceptional quality. Each brown decking board is non-slip and, therefore, safe for use in the home environment.
It's built to last a long time. Due to its unique construction, it won't rot, splinter or crack. It can withstand all weather conditions and the rich hazel colour will not fade or stain over time. We even supply a five-year warranty for your peace of mind.
Hazel wood composite decking by HR Composite
Within our HR Dek 140 range, you'll find brown composite decking boards in two lengths, including 2.4m and 4m. The right one for you will depend on the size and shape of the space you wish to deck and your personal preferences – so, be sure to consider this carefully before placing an order.
The boards also have a reversible design, with a different tread pattern on each side. One is a deep groove reminiscent of that found in real wood. The other is a lined pattern, which is intended to create a uniform and contemporary look. Simply choose the one that matches your garden the most.
Whichever boards you go for, rest assured, all of our wood composite decking is:
– Manufactured to the highest standard
– Durable
Order your brown composite decking today
Here at HR Composite, customer satisfaction is paramount to us. That's why, our brown composite decking is available for a competitive price – starting from just £12.12 – and deliveries are made as quickly and professionally as possible. Just add the required size and quantity to your basket, check out, and your new decking boards will be in your garden and ready to enjoy in no time.
Got a question? You're always welcome to get in touch. Our team have expert knowledge of the products available and can advise on the ideal size and style for your needs. Just give us a call on 01695 55 7711, or fill out our online enquiry form and we'll get back to you.
Is brown composite decking easy to look after?

Yes! Gone are the days of needing to sand, repaint or regularly treat your decking area to keep it looking great. Composite decking won't rot, rust, develop fungus or even fade.  The only care required is a gentle brush and quick clean every once in a while, and it will last for many years to come.  The choice of natural shades also have the added bonus of not highlighting garden debris – so you'll get away with doing nothing for even longer with brown composite decking!
Is brown composite decking better than wooden decking?

Yes (well we would say that wouldn't we – but it's true!). Brown composite decking offers a modern, cost-effective and low maintenance alternative to traditional timber decking.

At first glance it can be difficult to tell the difference – both have a grainy texture and look great – but that's where the similarities end. The combination of wood fibre and thermoplastic materials create a board with exceptionally high strength and resistance. Meaning that composite decking requires far less upkeep to stay looking good and spares you the ongoing care and maintenance needed for wooden decking.

Perhaps it's not even the 'wood effect' you're after but rather the subtle, natural shade of brown. If that's the case you'll be glad to know that, with our brown composite decking, you get the choice. One side of each plank has a grainy surface whilst the other is smooth – so you can achieve exactly the look you're after.

Why not read our blog, 'Composite decking Vs wooden decking – make the smart choice', to find out more about the benefits of composite decking over wood.
How do I fit brown composite decking?

Composite decking is lightweight making it easy to manoeuvre and work with. For a perfect fit follow our step by step installation guide. Or if you're struggling, need more advice or have any questions for the team, simply get in touch. You can call us on 01695 557 711, email [email protected] or complete our online form and we'll get back to you.
Share Your Results
Create a stunning outside area with our WPC (Wood-Plastic Composite) decking. View the images
below to see examples of how our composite decking can be used to transform living space.