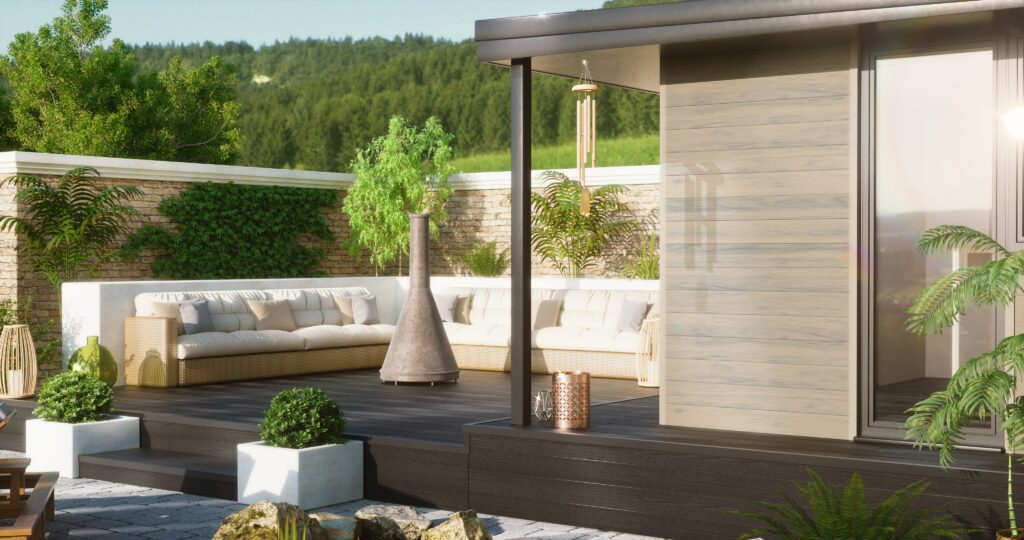 – Excellent quality
Made from the finest materials and specially-engineered for residential use, our black composite deck boards are non-slip and have a consistent charcoal-grey colour throughout.
They're guaranteed to last. Yet, to put your mind at ease, we also provide a free five-year warranty.
– Fade and stain resistant
Thanks to their ingenious design, our black deck boards are incredibly robust and capable of withstanding all weather conditions. There's no need to worry about the colour fading or stains.
– Low maintenance
Our black composite decking requires little maintenance. It won't rot, splinter or crack. And you don't have to paint or stain the boards to maintain their charcoal hue. Simply wipe them clean.
Ready to order your black composite decking?
All of our charcoal black composite decking is available for a competitive price, starting from just £12.12 – and placing an order is very easy. Simply select the size and quantity required and add them to your basket. Once you've checked out, we'll deliver your new boards as quickly as possible.
If you have any questions about the products available, please feel free to get in touch. We have detailed knowledge of our black composite decking and are always happy to help. Either give us a call on 01695 55 7711 or send an email to [email protected] and we'll get back to you.
How do I care for black composite decking?

One of the biggest advantages of black composite decking – in fact, any colour from our decking range – is its low maintenance qualities, meaning that the upkeep required to keep it looking great is minimal.

Made of wood fibre and thermoplastic materials, this hard-wearing product is highly durable, stain and rot resistant. A simple brush to remove any build-up of debris and a straightforward clean every now and again with hot soapy water and a soft-bristled brush is all that is needed. Easy.
What are the advantages of black composite decking?

Composite decking offers a great looking, cost-effective alternative to traditional timber decking.

As a dark colour, it won't show dirt or marks and it's hard-wearing, durable characteristics mean it will stay looking great for many years to come – and you'll barely need to lift a finger.

Unlike wooden decking, you won't need to regularly treat planks with a preservative, spend time sanding to avoid splinters or repainting to maintain the colour. Instead, you can just sit back and enjoy your decking.
Will black composite decking fade?

Black composite decking looks great and can make a real statement, particularly when offset against the vibrant colours of a garden. It makes a fantastic feature of your decking, but if you are concerned it will quickly fade and lose its impact, don't be. All our composite decking is highly durable, stain and fade resistant.

As with any material that is left outdoors and exposed to the elements, a small amount of natural lightening of the colour may occur over time. But – when this is balanced against using traditional wooden decks which would require annual repainting to preserve the colour – the smart choice is obvious.
Share Your Results
Create a stunning outside area with our WPC (Wood-Plastic Composite) decking. View the images
below to see examples of how our composite decking can be used to transform living space.