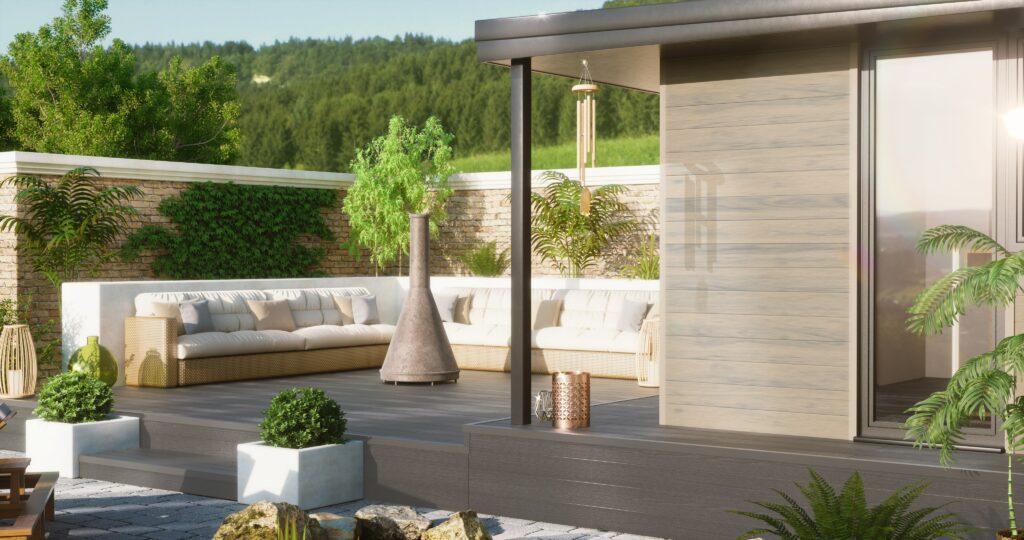 High-quality decking at great prices
At HR Composites, we manufacture an impressive range of composite decking boards. Our collection consists of:
HR Dek 140
With a smart reversible design, HR Dek 140 is our classic composite decking range. Engineered to boast exceptional strength, HR Dek offers the look and feel of high-quality deck boards – without the premium price tag!
HR Dek starts from £14.08.
Dual Dek
Our superior composite decking range, HR Dek is capped with polymer wrap for enhanced board protection. With Dual Dek you can also enjoy flexible colour choice, with boards offering a dual-coloured finish.
Dual Dek starts from £18.76.
All our composite boards come in two standard lengths:
For guidance on how much decking you will need, use our handy composite decking board calculator. Input the details of the size of your space (length and width, in millimetres) and our calculator will work out the rest, calculating how many boards you will require to cover the area.
Everything you need for great-looking composite decking
Got a particular colour in mind? We manufacture a great choice of black, brown, and grey composite decking. Take a look at our premium composite decking range – HR Dual Dek – with its innovative dual-coloured finish.
It's not just the shade you get to pick – you can also choose between surface finishes. The HR Dek 140 range offers a clever reversible design – a deeply grooved wood grain appearance on one side and a contemporary lined effect on the reverse.
With so much choice and flexibility, there are numerous ways to personalise decking designs. Use the various shades and textures of boards to 'zone' decking and build in safety features by highlighting steps and edges.
To complete the look, you'll find matching end caps, edge trims, and t-clip and screw backs to ensure a professional and seamless finish for your decking.
Effortless style
Wondering why you should choose composite decking over traditional timber decking? That's easy.
Composite decking is:
Easy to fit – incredibly lightweight, composite decking is easy to lift and move, making light work of fitting boards. Check out our installation guide for handy hints.
Simple to look after – pre-coloured and durable, composite decking boards require little in terms of maintenance.
Long lasting – our composite boards are designed to last, even when exposed to strong sunlight and wet conditions. Expect a life cycle of at least 25 years.
Stain resistant – worried a spilt drink, food, or debris from an overhanging tree will result in stains? They won't! Our composite decking offers excellent resistance to stains.
Cost-effective – strong, durable, with no need for paint or treatments to be applied, the cost advantages of composite decking boards soon become obvious. Add to that our hugely competitive prices, and you're onto a winner.
Safe – with a built-in slip-resistant surface, all our composite decking boards offer excellent protection against slippery surfaces.
Reversible – dark grey or light? Natural textured surface or a more contemporary lined finish? Our boards are fully reversible, giving you flexibility and the opportunity to fully customise your deck finish.
Eco-friendly – our composite decking is made from recycled materials. Reclaimed wood fibres and polythene – materials that would otherwise have gone to landfill. With no requirement for paint or sealants to be applied, there are also no toxic or damaging substances released into the environment.
Find your favourite
Not sure which colour to go for? Undecided about which style of composite decking will look best in your garden?
With our free sample service, you can see exactly how different colours look in situ and be confident in your choice before placing an order.
You can request a sample of any of the composite decking in our collection and we'll post out a handy 300m x 300m sample straight to your door.
Composite decking inspiration
Know you want composite decking but not 100% sure of your design? Then take a look at our gallery for inspiration.
Our decking boards have been used to create all kinds of fabulous outdoor spaces, from raised deck dining areas and sunken seating to garden steps and bar areas. The only real limit is your imagination.
Has composite decking transformed your living space? Why not share your finished results on Facebook or Instagram?
Order composite decking
Find everything you need to achieve a stunning composite decking area below. With no minimum order, simply click through on the products you require, add them to basket and when you're ready, check out. It's easy.
Over ordered? No problem. Provided your items are unused and still in their original packaging we'll happily accept refunds up to 14 days from your purchase date, so there's no need to stress about getting your quantities 100% accurate. To find out more check out our returns policy or to discuss your project in more detail with a member of the team, get in touch.
Don't forget to refer to our handy installation guide too.
Got more questions?
If you'd like to know more about our deck boards, please don't hesitate to get in touch. Whether you're wondering why to choose composite decking over timber decking or want to know more about what makes our composite decking better than any of the other alternatives out there, we're always happy to answer any further questions.
Our helpful and experienced team are on hand and ready to answer your queries, identify the best product for your project, or lend a hand with quantities and ordering.
Call us now on 01695 557 711, email [email protected], or fill in our contact form and we'll be back in touch soon.
Share Your Results
Create a stunning outside area with our WPC (Wood-Plastic Composite) decking. View the images
below to see examples of how our composite decking can be used to transform living space.