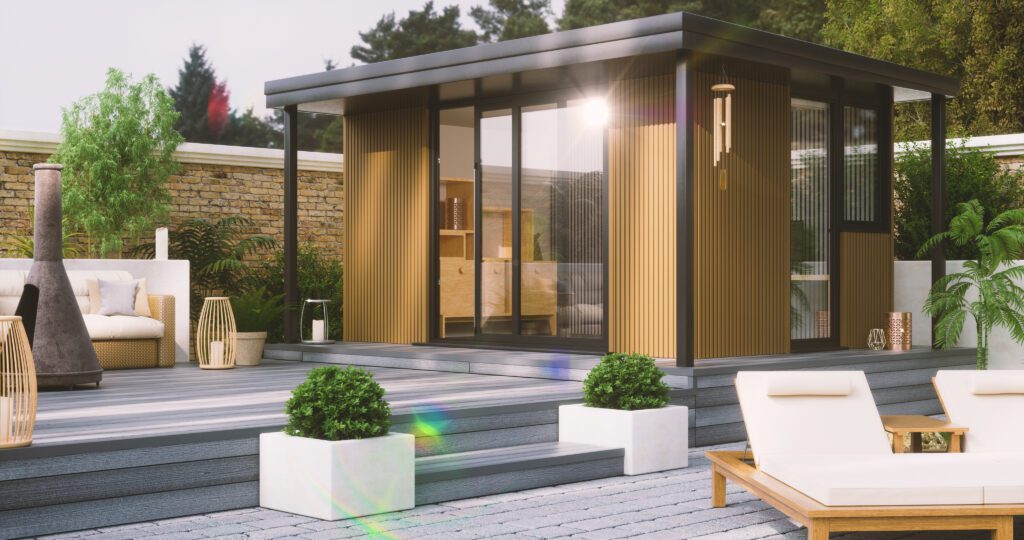 There's no sitting on the fence – in the UK, we're big on gardens.
In 2021 alone, we spent a whopping £18.6bn on sprucing things ups, accessorising, and buying tools and garden toys (we see that gnome you're hiding!).
But the smart money isn't spent on fancy water features and fire pits – it's spent on fencing.
More specifically, on composite fencing.
Wondering how a few fence panels can make such a difference to your outdoor space? And why composite fencing is any better than traditional wood? Specialists HR Composites share their thoughts on why composite is the ultimate choice when it comes to garden fences.
What exactly is composite fencing?
First things first. You won't be on your own if you're wondering what exactly composite fencing is, so let's clear the matter up.
Composite fencing is manufactured from WPC (wood plastics composite). Wood fibres, recycled polyethene, and a small mix of bonding agents and tints are combined to create panels with the appearance of traditional timber – yet with the advantage of a durable composite finish.
7 reasons to choose composite fencing
1.      It looks great
We're a house-proud bunch, us Brits, and regardless of the size of our outdoor space, we want it to look the part. Rotting fence panels, cracks creating peepholes for nosy neighbours, and peeling paint just don't fit the remit.
Composite panels do.
Smart, modern, effortlessly attractive, and available in a great choice of colours – they provide an easy and effective way to ensure property boundaries look spic and span.
Stick with traditional and go for natural brown shades, or go contemporary with charcoal greys and black. Either way, one thing's for sure, garden fences have never looked this good!
2.      You can explore your creative side
Big on the creativity? Like to stamp a little personality on things? With composite fencing, the possibilities don't stop at fence height and colour choice.
You can create a real style statement by adding in decorative panels. A great option if you're keen not to totally obscure the view, but still want the privacy and security afforded by having fencing in place.
3.      It boosts security
Composite materials are incredibly strong, making them more impervious to damage – there's no kicking down a composite fence panel!
The fact that they're not troubled by the same issues as wooden fence panels – like moisture, mould, and rotting – that ultimately degrade the strength and quality, means you can be confident of robust boundaries at all times.
Opting for composite fencing over alternatives, such as steel or aluminium, also reduces the risk of theft as there's minimal scrap value.
4.      You'll save time and money
A biggie when it comes to fencing is the cost.
Composite fence panels have excellent durability, so there's no need to worry about having to pay for repairs or replacement panels.  In fact, we're so confident in the quality of our composite panels that we offer a 10-year warranty.
Order from HR Composites, and you don't even need to replace your posts! As part of our great value fencing bundle, you'll receive aluminium fence profiles to slot into your existing concrete posts, allowing each slat to seamlessly slide into place.
Add to this the fact that you also won't have the ongoing expense of buying paint or preservatives, and the savings really start to add up.
5.      It's low maintenance
What's even better than a garden that looks fantastic? A garden that stays that way while you put your feet up and enjoy.
Sounds good, doesn't it? The low-maintenance requirements of composite materials are one of their most popular characteristics.
Endless rain, baking sunshine, wildlife – few things have an impact on this fencing's durability. With a clever polymer coating, the colour won't fade, so there's no need to repaint – ever!
Unlike the endless treating and painting needed with wooden panels, the trimming of hedges and the repointing of brick walls, with a composite fence you get a great-looking fence that will stay that way for many years to come – without lifting a finger!
6.      It's eco-friendly
Composite fencing is a great option if you're looking to make more sustainable choices.
Made from recycled 50% hardwood fibres and 40% recycled polythene, not only does composite fencing repurpose materials, but it also doesn't require painting or treatments – helping to reduce the use of harsh chemicals.
Order composite fencing today
As gardens begin to die back for the winter, now is a great time to think about replacing your fence.
Why not take a look at the fantastic range of composite fencing available from HR Composites? With a wide choice of colours available and numerous customisation options, you can source the perfect fence for your outside space right now.
To find out more about why composite makes the ultimate garden fence and tips on how to get your fencing right, check out our previous blog on the topic. Alternatively, you can place an order now, or talk to the team to discuss your fencing requirements in more detail.
Do I need to paint composite fencing?

No! Just one of the many reasons composite fencing is so popular is the fact that it requires little to no maintenance – and that includes painting!

Unlike traditional wood fencing, there are none of the tedious requirements to paint panels or apply wood treatments. Not only does this free up time, but it also saves you money.

Our fence panels are available in attractive shades of brown and grey, which we're confident you'll love. However, if you're worried your opinion will change over time, then it's reassuring to know that it is possible to paint composite fencing – you just won't ever need to.
How secure is composite fencing?

Don't be fooled into thinking that just because composite fencing looks good, it's not as sturdy as other fencing – it is!

Composite fencing not only offers you an attractive way to mark your boundaries, it's also highly effective at securing them. And thanks to its durable properties, you can be confident things will stay that way.

Incredibly strong, panels won't rot or degrade over time in the way that traditional wooden fencing can, which means you can relax knowing your fencing will remain safe and secure for a long time to come.

Add to this the fact composite fencing holds no theft value (unlike steel fencing), whilst also being extremely robust and difficult to damage, and it stands out as a great option for any area where security is a top priority.
Why choose composite fencing over wood?

If composite fence panels are designed to mimic the look of real wood, you might be wondering if you should just buy wooden fencing. But composite panels don't just look good, they offer modern day convenience too.

Principally they are low maintenance and highly durable. No sanding, painting or applying wood treatments are required and there's no need for regular checks for signs of rot setting in, damage or splintering.

Opting for composite fencing will reduce both the time and money you need to invest in your fencing solution. Highly customisable and incredibly easy to fit, order composite fencing today for a cost-effective, low maintenance – and great looking – fence that lasts.

To find out more about the advantages of composite fencing over wood, check out our blog, 'Composite decking Vs Wooden decking'. Or talk to the team who will be happy to answer any questions.
Share Your Results
Create a stunning outside area with our WPC (Wood-Plastic Composite) decking. View the images
below to see examples of how our composite decking can be used to transform living space.