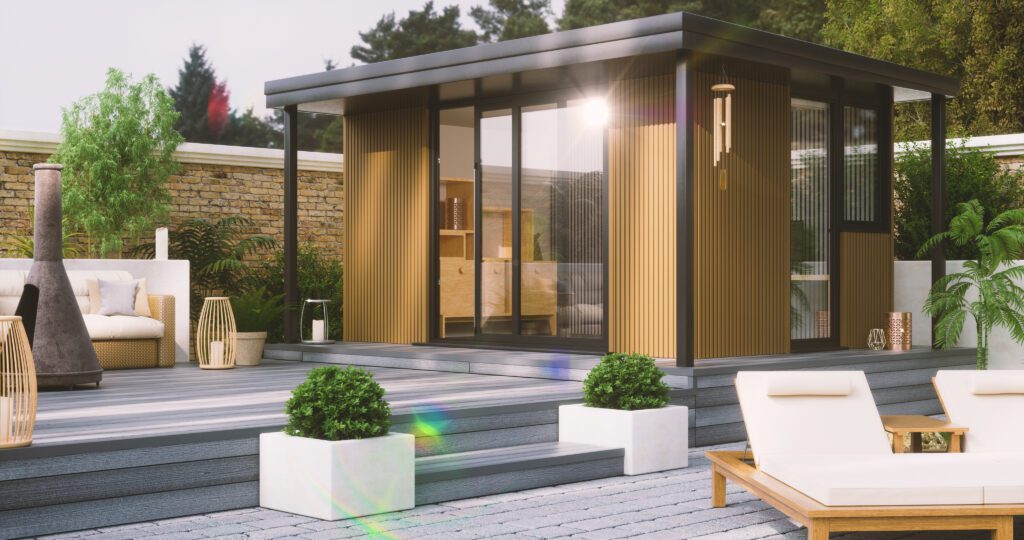 Where can cladding boards be used?

That's the great thing – cladding can be used pretty much anywhere! Inside, outside, on walls or ceilings, in bedrooms, bathrooms, gardens…the list goes on. You can even choose to fit boards vertically or horizontally, depending on the look you want to achieve.

So whether you're looking to build an outdoor bar area, want to add personality to a room, create a gaming zone, or simply to spruce up an unattractive space, the possibilities are endless with composite wall cladding.

For more inspiration, or to discuss your intended use for cladding in more detail, contact the team.
Do I need to paint composite cladding panels?

Great news, no! That's one of the main perks of composite cladding, there's no need for paint – so if you hate decorating, this is the product for you!

Not only can you use cladding boards as a quick and easy way to cover unsightly areas, but you can also relax knowing that, even years down the line, you won't need to dig out your paint brushes. Thanks to its highly durable finish, not only does composite cladding help to avoid painting and decorating, it will also keep all your maintenance tasks to a minimum. Providing an attractive finish that won't rot, warp, or splinter over time.
What's the difference between Decor Clad and the other ranges available?

In essence, not much.

Fitting Decor Clad is just as fast, affordable, and long lasting as using any other products from our cladding range – but whilst Decor Clad is suitable for outside, we recommend it most for internal use.

If you do want to use Decor Clad outside, you can. We would advise keeping it out of direct sunlight, however, as the colour may fade slightly over time. For cladding that is highly resistant to UV rays and discolouration, try our Exterior Cladding or Castellated Exterior Cladding ranges instead.

To find out more about the different cladding we have available, or for help identifying the best one for your intended use, why not talk to the team? We'd love to help.
What are composite cladding boards made from?

The makeup of our composite cladding is very similar to that of our composite decking.

As a wood plastic composite, our wall cladding boards do look remarkably like wood cladding – but they're not! Instead, boards are made from a mix of recycled plastic and recycled wood fibres. Not only is this composition great for the environment but the resulting composite boards give you the attractive look of timber cladding without any of the hard work.

As a composite material, our cladding boards are highly durable and, unlike natural wood cladding, they will never require painting or expensive treatments, making them a low-maintenance and cost-effective option.
How easy is it to install composite cladding boards?

Whether you want to enhance an exterior wall, update your living room, or create a bar area – anything is possible with composite cladding boards.

Each cladding board is incredibly lightweight making them easy to install. Boards can be easily lifted into place and attached using the batten and connect clips included or with an adhesive.

It's incredibly simple – and the results are stunning.

Even better, once the cladding boards are in place, you can relax in the knowledge your boards will continue to look great for many years to come.

Don't wait a moment longer, order composite wall cladding today and start reaping the benefits.
Share Your Results
Create a stunning outside area with our WPC (Wood-Plastic Composite) decking. View the images
below to see examples of how our composite decking can be used to transform living space.