Enhance indoor & outdoor spaces
Use composite decking boards to transform your home and garden.
Most popular products
From rustic browns, for the classic appearance of real wood decking, to contemporary greys and striking blacks, view our most popular composite decking board products below or check out the full range now.
Order composite decking
Find everything you need to achieve a stunning decking area. With no minimum order, simply click through on the products you require, add them to basket and when you're ready, check out. It's easy.
Over ordered? No problem. Provided your items are unused and still in their original packaging, we'll happily accept refunds up to 14 days from your purchase date, so there's no need to stress about getting your quantities 100% accurate. To find out more check out our returns policy.
Don't forget we offer free composite decking samples too – get in touch to order yours.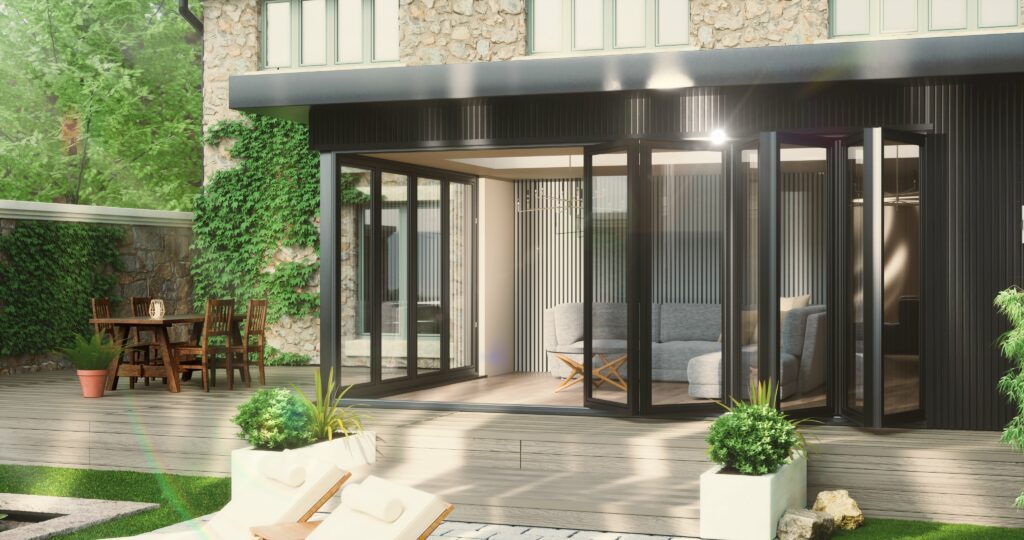 Everything you need for great looking composite decking
Got a particular colour in mind? We manufacture a great choice of black, brown and grey composite decking boards. Take a look at our premium range – HR Dual Dek – with its innovative dual-coloured finish.
And it's not just the shade you get to pick. You can also choose between surface finishes. The HR Dek 140 range offers a clever reversible design – a deeply grooved wood grain appearance on one side and a contemporary lined effect on the reverse.
To complete the look, we offer a wide range of composite decking accessories. You'll find matching end caps, edge trims, brackets and pins to ensure a professional and seamless finish for your decking.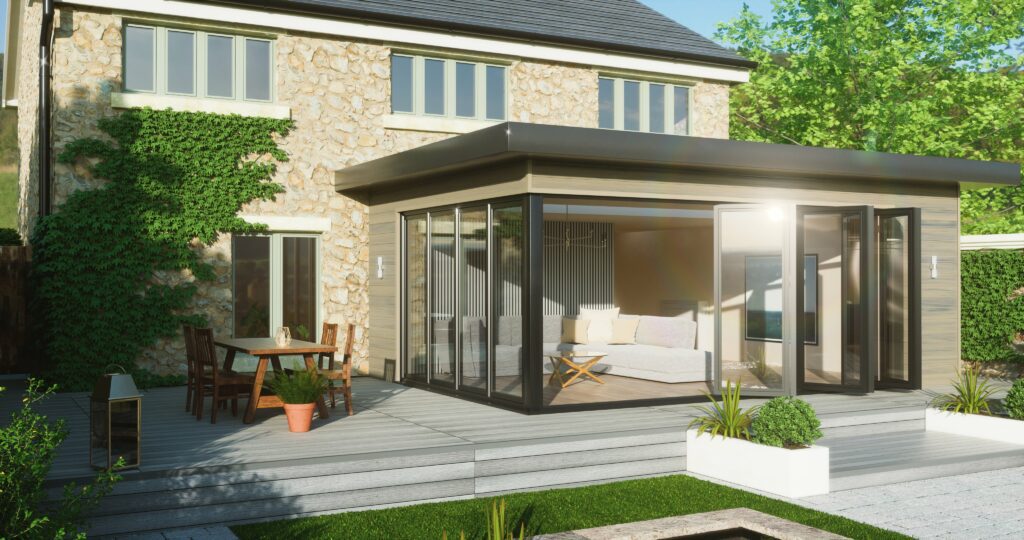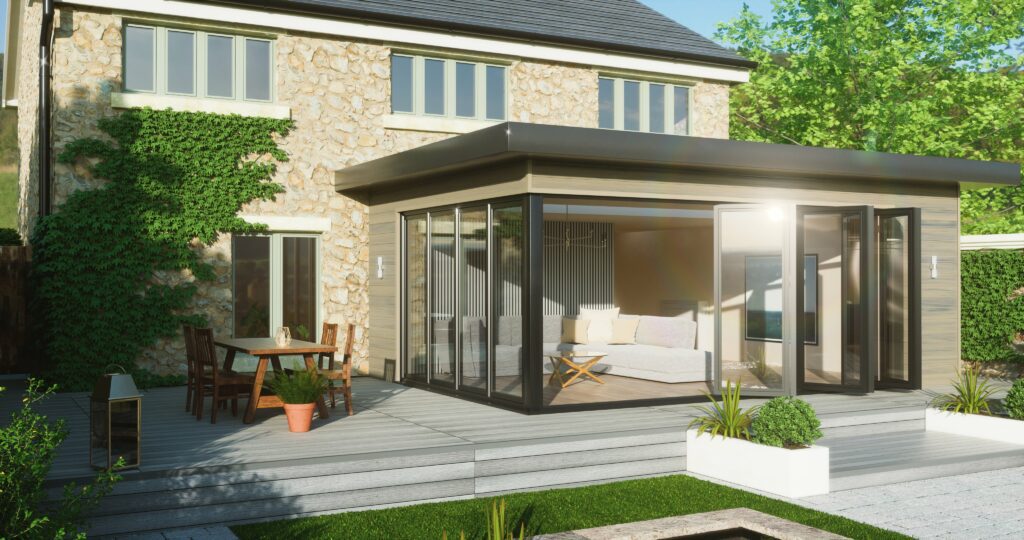 Do I need a professional fitter for composite decking?

Whilst using an experienced fitter is usually the quickest and easiest option – and a great way to ensure a professional finish – it is possible for anyone to install composite decking.

Our composite decking boards are extremely lightweight, making them easy to handle and move into position. Any keen DIYer can have a go, and we hear lots of positive feedback from happy customers who have successfully built their own decking areas.

All we'd recommend is taking a little time to do some homework first. Start by reading our handy installation guide and take a look at a few 'how to' videos on the internet. It's also a good idea to make sure you have everything you need before you start – so don't forget to order your trims and fixings.

And remember, our friendly team are always available for help and advice too. From guidance on measuring up to avoid wastage, right through to the best way to fit and care for your deck.

Contact us today, or to get started, order your free samples.
Is composite decking slippery?

Great news – no!

Each board has an innovative, anti-slip surface as standard. This built-in finish is designed to add additional grip and ensure your decking remains non-slip even in the wettest of conditions.

So, if you're searching for a great looking, low-maintenance option that is safe to use all year round, then this is it.

To find out more, browse our decking range and order your free samples. Or to talk to the team, call us on 01695 557 711, email [email protected] or fill in our contact form and we'll be back in touch soon.
How much is composite decking compared to wooden decking?

A quick scan of the many advantages of composite decking and you would be forgiven for assuming it's going to be pricey – well, it's not!

In fact, it proves to be extremely cost-efficient. Yes, the initial outlay can be more than its wooden counterpart, but when you factor in the expense of the ongoing upkeep required for wooden decking, the costs soon balance out.

Composite will never need to be re-painted or treated. And thanks to its highly durable nature, it will provide you with years of enjoyment too. Add that to the fact that, here at HR Composites, we pride ourselves on competitive pricing and you're on to a winner.

Browse the range now or to talk to a member of the team, please don't hesitate to get in touch.
How long does composite decking last?

Two of the key benefits of composite decking are its durability and low maintenance.

Even when exposed to harsh elements – the extremes of intense UV rays in summer and the cold, wet conditions of winter – you can rely on composite boards not to rot, develop fungus or deteriorate. In fact, with the right care, you can expect composite decking to last for many years – typically upwards of 25!

Thanks to its unique stain-resistant surface, and hardwearing qualities, all that's needed to keep composite looking its best – and maximise its lifespan – is a simple clean every now and again. Easy.

To find out more about the long-term benefits of composite decking, please don't hesitate to get in touch.
What is composite decking?

Composite decking is the smart alternative to traditional wooden decking boards.

Officially referred to as WPC decking (wood plastic composite), it is made from a mix of recycled wood fibre, recycled polythene, and bonding agents.

The result of this unique combination is an environmentally friendly and long-lasting decking board that not only looks great but requires minimal maintenance too.

At HR Composites, our boards are fully reversible. Available in a range of attractive black, brown and grey shades, they offer the grained appearance of wood on one side or a more modern straight ridged effect on the other.

Shop our collection of composite decking now or to find out more, talk to the team.
What's the difference between composite decking and wood decking?

To all intents and purposes, composite decking looks and works just like wooden decking – only better!

Ok, so as a leading supplier of composite decking, we could be accused of being a little biased here, but it's true – there really is no comparison.

Yes, wooden decking gives you a natural look and feel but composite decking can mimic the appearance of wood grain – without burdening you with the ongoing maintenance tasks associated with timber decking.

Regular sanding, wood treatments and painting, are all standard requirements to keep wooden decking in good condition. In comparison, composite decking requires none of this. Just a basic clean every now and again to remove surface debris, is all that is needed.

Add to this the fact that composite decking is lightweight and easy to work with. And that it has a built-in anti-slip surface (wooden decking is hazardously slippery when wet), and it's easy to see why people choose composite.
What is WPC composite decking?

WPC (Wood-Plastic Composite) decking is a lightweight, low-cost alternative to traditional timber decking. The combination of wood fibre/wood flour and thermoplastic materials creates a composite board with the appealing appearance of wood but with the added advantage of being a high strength, highly resilient, composite finish.

We engineer a combination of 50% recycled hardwood fibres, 40% recycled polythene and a 10% mix of bonding agents and tints. View our HR Dek 140 range today!
Is composite decking eco-friendly?

Great news – yes!

Composite decking is arguably one of the most eco-friendly options on the market.

If you're environmentally conscious and keen to make greener choices where you can, then rest assured composite decking is one of the most eco-friendly options available.

Made from recycled materials – wood fibres and polythene – its production reduces the amount of waste going to landfill. Its green credentials are further bolstered by the fact it's a durable, long-lasting solution that requires minimal ongoing maintenance. With no need for sealants or stains, there's no negative impact on the environment caused by harsh chemicals or toxic substances.
How do you maintain composite decking?

When it comes to looking after composite decking, there's nothing to it – literally!

One of the most favourable characteristics of composite decking is the fact it is so easy to maintain. Pre-coloured, there's no need for the annual repainting associated with wooden boards. Instead, you can enjoy your decking year-on-year with minimal effort required to keep it in excellent condition.

There's no need for specialist treatments or sealants to be applied. In fact, the most you should ever need to do is sweep the surface free of debris – fallen leaves in autumn, blossom in spring etc – and periodically you could give the boards a quick wipe over with warm soapy water and a soft-bristled brush, or a low-level power wash, to keep them looking their absolute best.

Don't believe looking after composite decking can really be this low maintenance? It is! But why not talk to a member of the team to find out more about just how easy it is?
Can you stain/paint composite decking?

The short answer is, yes, you can. But in reality, there should be no need.

One of the many attractions of composite decking is that it comes pre-coloured – at HR Composites we offer a range of popular grey, black and traditional brown shades of composite decking board. And with minimal care and attention, thanks to the quality of our boards, that colour should last for many years to come with no need for painting.

That said, we understand that ideas and opinions change. What you thought looked great a few years ago may no longer be what you'd choose today. So it's good to know that our composite boards can easily be painted if you fancy a change…but even better to know that you don't need to.
Is composite decking scratch-resistant?

Yes. Designed to endure pretty much anything that's thrown at it, composite decking's high level of durability is one of its most popular features.

Impressively scratch-resistant, it is a great choice for areas expecting heavy footfall or where there are kids and pets about.

Far hardier to scrapes and scuffs than wooden decking, you can be confident it will stay looking great for many years to come.

For even more advanced scratch resistance, check out our premier HR Dual Dek. Capped with a protective polymer wrap, its advanced 360° co-extrusion polymer coating is impermeable, preventing stains and offering impressive shielding against scrapes.
Does composite decking warp?

No! Unlike timber decking, quality composite decking doesn't warp.

Warping occurs with wooden decking when it absorbs excess moisture. As composite decking is completely waterproof and hardy to the Great British weather, it won't take on additional moisture.

The only potential warping to watch out for is thermal expansion – and this is only an issue if boards have been incorrectly fitted and are too close together.

Composite boards will naturally expand a little when heat is absorbed, so it's essential to follow installation instructions and fit boards with enough space to accommodate this.

For help fitting composite decking, check out our installation guide or talk to a member of the team.
What sizes do composite decking boards come in?

Our quality decking comes in a choice of two standard sizes. These are:

With short and longer lengths available you can avoid wastage and keep costs to a minimum.

For guidance on how much decking you will require, why not use our composite decking board calculator? Simply input the width and length of your space (in millimetres) and our handy calculator will do the hard work for you, calculating how many boards you will require to cover the area.

Don't forget though, using different board lengths doesn't have to be all about minimising waste – you can mix and match board sizes to create alternative aesthetics and designs too. For more inspiration on different ways to lay decking, check out our blog on the topic.
Share Your Results
Create a stunning outside area with our WPC (Wood-Plastic Composite) decking. View the images
below to see examples of how our composite decking can be used to transform living space.